In 2019, Dana accelerated our capabilities in vehicle electrification to become capable of delivering all elements of a complete, fully integrated electrified system across all mobility markets in any region of the world, securing our position as a leader in e-Propulsion technologies with a portfolio of technologies that will lead us into our next century of innovation.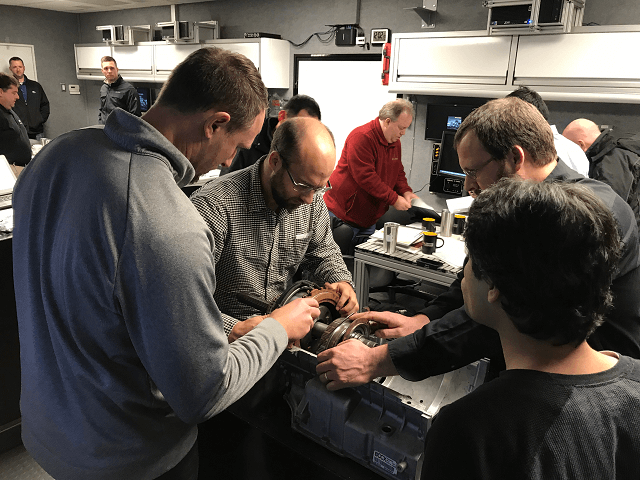 These new capabilities mean focusing our efforts on empowering our people to understand the electric powertrain and safely deliver products for customers. Over the last few months, Dana has intensified its educational opportunities for employees to learn about electrification and hybridization. Dana offered the following courses to employees:
High-voltage Safety Class conducted by Michigan Technological University's (MTU) Advanced Power Systems Research Center.  Students were taught about the risks associated with working on electric vehicle high-voltage batteries, and provided safe handling processes when servicing, handling, and storing these systems.
Electrified Propulsion Systems Class conducted by MTU's Mobile Lab. The class concentrated on electric propulsion sub-system operation, energy flow, architecture, and systems level integration of hybrid-electric vehicles (HEVs) and battery-electric vehicles (BEVs).  The Mobile Lab is an expandable, double-wide classroom trailer pulled by a class 8 semi-truck consisting of two functional powertrain test cells (mini dynamometers) on each end for hands-on learning. Additionally, MTU brought eight of the latest HEV and BEV for Dana students to conduct ride-and-drive testing​.
Introduction to Power Electronic Fundamentals (TM4 101) conducted by Dana TM4 engineers. Class attendees learned the basics of AC motors and inverters, along with performance specifications of TM4's motors.
Intermediate Electrification Knowledge and Market Introduction (TM4 201). Dana TM4 engineers shared market knowledge on TM4's electrification technologies and manufacturing process as it relates to new energy vehicle architectures and Dana e-Propulsion systems.
These classes along with others are helping to prepare Dana's workforce for the shift to hybrid and electric vehicles across our business units.