Spicer® Electrified™ portfolio offers complete electric systems, reduces emissions.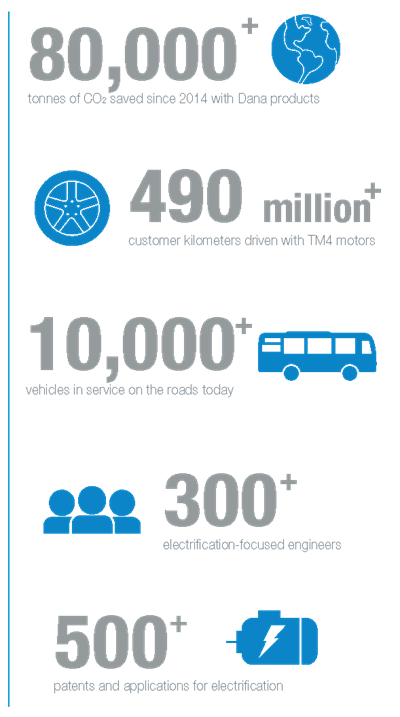 The mobility industry continues to push for innovations that improve fuel efficiency and reduce overall emissions. Adoption of stringent emissions regulations to maintain air quality will be a growing global trend. China and Europe will lead the establishment of low/no emission zones and will be the top two regions contributing to global hybrid and electric vehicle sales by 2025.
While we continue to improve the efficiencies of our traditional products associated with internal combustion mobility, Dana has intensified its efforts toward cleaner mobility alternatives. According to consulting agency Roland Berger, the percentage of electrified vehicles is growing across all vehicle segments. For Dana's core markets, two areas are expected to grow ahead of the others. Electric medium-duty trucks are expected to represent 12 percent of the market by 2023, while buses are expected to reach 62 percent of the market during the same period.
This important trend has become a strong focus for Dana as it positions itself as the global leader in e-Propulsion technologies. In June, Dana acquired a majority stake in TM4 Inc., a subsidiary of Hydro-Québec, Canada's largest electricity producer and one of the world's largest hydroelectric power producers. TM4 designs and manufactures motors, power inverters, and control systems for electric vehicles, offering a complementary portfolio to Dana's existing portfolio of electric gearboxes and thermal-management technologies for batteries, motors, and inverters. The transaction established Dana as the only supplier with full e-Drive design, engineering, and manufacturing capabilities.
These technologies are being accepted by customers and are already aiding in the reduction of nearly 80,000 tonnes of carbon emissions by powering approximately 490 million kilometers for more than 10,000 electric buses in China.
Ranging from complete systems and modular solutions to individual sub-system components, the company's e-Propulsion portfolio is able to support customers in developing series and parallel hybrid configurations up to full battery-electric vehicles. Dana's electrified product offerings meet the diverse architecture and platform requirements of its broad customer base in the light-vehicle, commercial-vehicle, and off-highway markets.
In 2018, Dana also laid the ground work for the acquisitions of the SME Group, which closed in January 2019. SME designs, engineers, and manufactures low-voltage AC induction and synchronous reluctance motors, inverters, and controls for a wide range of off-highway electric vehicle applications, including material handling, agriculture, construction, and automated-guided vehicles.
The company also announced the acquisition of the Drive Systems segment of the Oerlikon Group, which closed in February 2019. The business is a global manufacturer of high-precision gears; planetary hub drives for wheeled and tracked vehicles; and products, controls, and software that support vehicle electrification across the mobility industry.
Dana has now revealed a comprehensive Spicer® Electrified™ portfolio, including fully integrated electro-mechanical propulsion systems featuring gearboxes, electric motors, inverters, and thermal-management technologies for light, commercial, and off-highway vehicles.